(Image: "Battle of Blackwater Bay" by Morgan E. Brewer, from Draw 'Em With the Pointy End)
I knew going in that there are two essential ingredients for any cocktail meant to evoke Tyrion Lannister.
Bitters
Whisky
(Source: thenerdsofcolor.wordpress.com)
Even with that in mind, my brain kept wandering over to the Negroni, which is both one of my favourite drinks and also a bit off-putting at first because Campari. However, there are some delightful variations, several of which I happen to love, most particularly the Boulevardier.
Impin' ain't easy
1 oz Bulleit bourbon
1 oz Campari
1 oz Dolin vermouth
Dash Peychaud's bitters
Twist of flamed orange
Gold sugar rim
The main difference between a Boulevardier and a Negroni is the base spirit—bourbon instead of gin. Some people use rye (and the original recipe may actually call for it), but I found that my go-to Crown Royal rye was a bit overwhelming, so if anyone has a recommendation for a good rye in a Boulevardier, I'd like to hear it. For now, I'm happy with bourbon, since it's a little smoother and a sweeter to offset the Campari.
I also had the worst time coming up with a name for this drink because Tyrion is both intensely quotable and very difficult to pin down. Finally I went with the incredibly stupid name that popped into my head when I first decided on the drink because I was sick of racking my brain and wanted to post this already late entry.
It's not at all surprising that Tyrion is one of the most popular characters in the fandom, and he deserves it. He's complex, challenging, and witty. He's genuinely sympathetic and wants to do the right thing when he can. He hates the characters who are worth hating–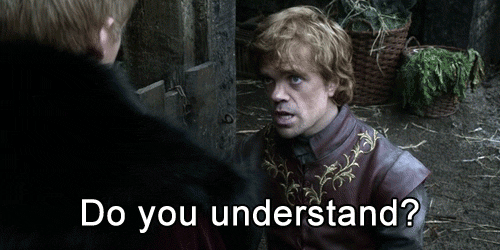 –and respects the ones we respect. Unfortunately, the world is not kind to Tyrion. Despite his wealth and privilege, his disability means that he is constantly treated like a second-class citizen.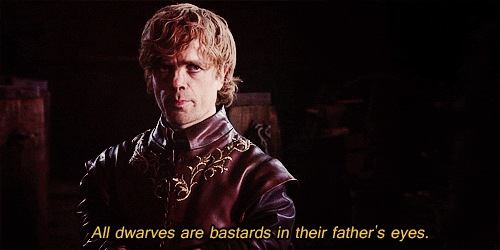 I remember being genuinely struck in my first reading on the amount of time Martin spends describing how Tyrion gets around. As an able person, it hadn't even occurred to me when thinking about fantasy settings, just how ridiculously difficult it must be to get around someplace like the Red Keep or Winterfell or—god forbid—the Eyrie. Most of the other characters take things like stairs and passages for granted, but Tyrion can't.
Tyrion is also a survivor of sexual abuse, although his methods of coping are perhaps not the healthiest. He doesn't have issues with women—he has subscriptions. Late in A Storm of Swords, and in Season 4 of Game of Thrones, after having been convicted of a murder he did not commit, Tyrion reaches his breaking point and decides that murder might be the answer to his problems.
Spoiler: It isn't.
Dragons, however, might be. I'll be curious to see where he ends up this season.
While I could write more about Tyrion, I'd mostly just be parroting the excellent series of essays about Tyrion by Emmett Booth. It's book-based, but if you've read them, it's well worth a look.
And some more gifs. Tyrion is probably the most gif-able character on this entire damn show.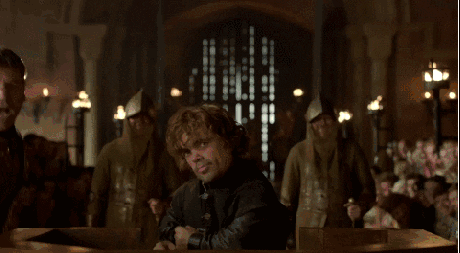 And, having done that, I leave you with Tyrion's own advice: Drink and know things.
Previous Posts
Impin' ain't easy